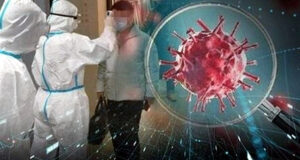 Ashis Sinha: Administration sounded alert following the rising Coronavirus positive cases in states like Maharashtra, Kerala, Madhya Pradesh, Chattisgarh, Punjab, Haryana, and Kerala.
The health department reviewed the situation following the spike in Covid cases in many states, said PK Srivastava District Surveillance Officer. "We all need to be alert. Once our district is in the grip of the pandemic, it needs to be understood by all," he added.
The surveillance department issued an advisory for mandatory testing and quarantine for passengers coming from outside in the district. COVID tests, thermal scanning has been started at Toll Plaza and the railway station.
Samples collected from the people coming from outside will be sent for investigation and they will be instructed to remain in home isolation until the report arrives to us. If the report is positive then they will be admitted to COVID Hospital. We also keep informing who's reports come negative, said an official.
Witnessing a surge in Coronavirus positive cases in several parts of the country the state government has been instructed to increase sample tests, do comprehensive surveillance and implement stringent containment curbs to check the spread of the virus, the official said.
Sources said, the CM has instructed the officials concerned to closely monitor the situation in Covid and to carry out testing, follow-up and treatment.
In light of the coming festivals like Shivratri and Holi, officials were asked to stay alert. "There is no need to be laxity in the following safety protocols," the official said.
Meanwhile, people were asked to maintain social distance by wearing masks and washing their hands regularly.
Owing to the rise in active cases, the Ranchi district administration has intensified COVID testing; seventeen new testing centres were set up across the district to ensure that at least 1,000 people are tested for COVID-19 in Ranchi every day.
Ranchi may witnesses a further surge in Covid cases due to the increase in the number of testing, said an official.