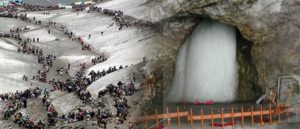 The Amarnath Yatra begins on Wednesday amidst terror threat, the  Jammu and Kasmir police assures security during the Amarnath Yatra. The first batch of 2,280 pilgrims, comprising 422 women, left the Jammu base camp for Kashmir Valley amid tight security.
Intelligence inputs have suggested 'terror threat' to the Amarnath yatra with terrorists and stone-pelters in Kashmir planning to target the yatra. "Intelligence input received from SSP Anantnag reveals that terrorists have been directed to eliminate 100 to 150 pilgrims and about 100 police officers and officials," according to a letter sent by Inspector General of Police (Kashmir Zone) Muneer Khan to the Army, the CRPF, and range DIGs in the state.
Escorted by the CRPF, army and J&K police personnel, a cavalcade of 72 vehicles–46 buses and 26 light motor vehicles–was flagged off from Yatri Niwas at Bhagwati Nagar, the base camp of Amarnath pilgrimage in Jammu, by Deputy Chief Minister Nirmal Singh.
"We want to convey to the pilgrims intending to undertake the yatra that J&K guarantees foolproof security arrangements for them. There are some elements bent on disturbing the pilgrimage but we are committed to having a safe and secure pilgrimage for the pilgrims," the Deputy Chief Minister said.
"We are using technology to keep a tight vigil on the movement of anti-social elements", said AV Chauhan, Inspector General, CRPF.
The 40-day-long pilgrimage to the holy cave of Amarnath in the mountainous region of south Kashmir will commence today from Jammu, about 200 kms from the shrine. Over 2.30 lakh pilgrims have registered for the yatra and the first batch of over 4,000 pilgrims will be flagged off by Deputy Chief Minister Nirmal Singh for the twin base-camps of Pahalgam and Baltal in Anantnag and Ganderbal districts.