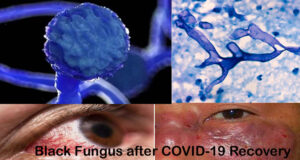 Ashis Sinha I JNS: Amidst India is struggling hard to combat the deadly growing COVID-19 cases, a large number of rare infections, "Black fungus" (Mucormycosis) is being reported among people recovering from the Coronavirus infections. Depending on the severity, the infection can be life-threatening and has a mortality rate between 46 to 96 per cent, sources said.
"Mucormycosis" or "Black Fungus" infection is spreading across the country amid the rise in COVID-19 cases. Over 20 infection cases with black fungus have been reported from Jharkhand in the past few days. Infections of black fungus are being found in people who have been cured of coronavirus infection and are suffering from high sugar, informed Dr. DK Singh, the PRO of Rajendra Institute of Medical Sciences (RIMS), Ranchi.
Bokaro district reported four black fungus cases which includes two deaths due to black fungus in the last week.
One male patient, a resident of Kathara, died at Prudence Hospital, while another 68 years old woman died at Bokaro General Hospital (BGH) with "Black Fungus" infection. Both were diabetic, and the man was COVID-19 positive while the woman was recently recovered from COVID-19, informed hospital authorities.
"It develops in the nasal tract due to the poor quality of water used, through which the piped oxygen in hospitals passes to make it hydrated oxygen before it reaches the patient's nostrils. It's very much like the fungus which develops on bread due to moistureif kept for a long time," said the expert.
The patients with the symptom of "Black Fungus" died before the treatment could be started. He rushed her with high sugar value, said Dr Ambrish Soni, an Eye Surgeon.
One other female patient, a resident of Chandrapura, was referred to Rajendra Institute of Medical Sciences (RIMS) Ranchi by the district health department after she was diagnosed with "Black Fungus" infection. Now she is under treatment at RIMS, informed AK Pathak Civil Surgeon Bokaro.
Meanwhile, another suspected case (71 years old diabetic patient) of the black fungal infection has been kept under observation at BGH.
According to media reports, at least 70 "Mucormycosis" cases have been detected in Hyderabad, and six of them have died due to complications. Apollo Hyderabad alone has seen more than 50 "Mucormycosis" cases in the last one month, out of which six patients have succumbed to the disease.
Over 2000 active cases of "Black Fungus" have surfaced in Maharashtra, while around 52 people died due to the "Mucormycosis" disease since the COVID-19 outbreak last year. All of them were COVID-19 survivors but succumbed to the "Black Fungus" infection, it reported.
"Mucormycosis" is a rare form of fungal infection that could affect vision and threatens life. Doctors across the country, including Delhi, Hyderabad, Gujarat and Maharashtra, have raised the alarm about the rising cases of life-threatening infection among post-COVID patients.
In a new study, scientists found that the risk of fungal infections such as mucormycosis was considerably increasing in COVID-19 patients with diabetes who had gone under steroidal medication.
Dr Ranjit Shail, Consultant Physician in Acute Medicine and Nephrology at St. Helier Hospital, London and also an Honorary Senior Lecturer at St. George's University of London, said, "Mucormycosis is a type of fungal infection commonly found in soil and damp buildings and usually called "Black Fungus". This fungus can affect various parts of the body, including single organs like nose, sinuses, brain, lungs, intestine, skin, or more generalised involving many organs."
"Black fungus" infections are more common in patients with diabetes and immune compromise. "It is associated with Coronavirus infection because this virus is more severe in conditions with diabetes, immune suppression, and because of use of steroids," he added.
Nasal congestion, Headache, Fever, Cough and Breathlessness are the main symptoms of black fungus infection, and the risk factors are Diabetes, Cancer, Steroid treatment, Organ transplant and Immunosuppression treatment, said Dr Ranjit.
He said, "If the infection grows in the sinuses and brain, symptoms include fever, one-sided facial swelling, headache, and nasal or sinus congestion."
"If your lungs are affected by the fungus, you can experience cough, chest pain, and shortness of breath. When Mucormycosis attacks the digestive system, you may experience abdominal pain, nausea and vomiting, and gastrointestinal bleeding," he said.
"Tissue biopsy is required for its' confirm diagnosis," said Dr Ranjit
"Fungal medicines like Amphoterecin can be used for the treatment besides isavuconazole, and posaconazole. Though surgery may be required for removing the fungal ball," he added.
Meanwhile, most doctors believe "Mucormycosis", which has an overall mortality rate of 50 per cent, may be triggered by the use of steroids, a life-saving treatment for severe and critically ill Covid-19 patients.
According to National Health Services (NSH) experts, "Mucormycosis" is a dangerous disease that is killing many people after they have recovered from the dreaded COVID-19 infection.
"Mucormycosis" can be fatal to those who have been on oxygen support for five days or more. So, the oxygen which gives you life actually becomes your death sentence, said an expert.
"In the nasal tract it develops due to the poor quality of drinking water used in hospitals to produce the hydrated oxygen before it reaches the nose of the patient. Very similar is the fungus which, if kept for a long period, develops on bread because of moisture," he said.
It begins with the nose, goes to the eye, and then to the brain, and paralyses the nerves through which it travels. First of all, it is the eye that quickly and permanently loses vision.
If not stopped, it enters the brain, and then it's a matter of a day or two before the person paralyses, has multiple organ failure or sudden heart attack and dies, he said.
For anybody on oxygen support in a hospital, it's crucial to keep looking around the nostrils for any black pigmentation, said the expert.
"Each should be alert and anti-fungal immunisations should begin immediately as soon as it is noticed even as a smallest dot; as immunisation is the only treatment for this disease. Call an eye surgeon or specialist at once on video call and show him or share a picture of the infection," the expert urged.
"The oxygen supply also needs to be sanitised immediately," he said.
While only distilled water should be used for hydrating oxygen, in all hospitals, due to callosity, negligence or downright ignorance, tap water or any other water available around is used by the paramedical staff.
What is worse is that the container for this water for hydrating the oxygen is seldom cleaned, leading to a concentration of viruses and bacteria in the piped supply system, which cures you of COVID-19 temporarily and then kills you with the deadly "Black Fungus", he said.
Also, suppose tap water or even purified or boiled water is used in the humidifier over a period of time, in that case, there will be deposits of impurities, including micro-metals, minerals or salts, which make things worse. Sadly, even many senior doctors tend to overlook this crucial aspect of the life-giving oxygen supply.
Hundreds of people who were on oxygen support and had recently recovered from COVID-19 are dying of this disease every day. Because by the time family members notice the black pigmentation at home, it's already too late, and even doctors are helpless.
The most unfortunate part is the complete lack of awareness about this contamination in oxygen supply and about the deadly disease itself, the expert mentioned.