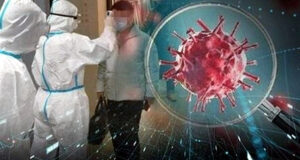 Ashis Sinha I Bokaro: Aiming to curtail the spread of deadly Sars-Cov-2 virus infection COVID-19 Bokaro District Administration opted three T formulas — 'Test', 'Tracing' and 'Treatment' and on move to implement it on war foot basis, informed A K Pathak Civil Surgeon Bokaro.
A meeting was held at Sadar Hospital under the chairmanship of Civil Surgeon Dr. Ashok Kumar Pathak and Sub-Divisional Officer Chas Shashi Prakash Singh.
We (district Health Department along with the administration) are making every effort to curb the spread of the global pandemic COVID-19, said Pathak.
Following the consistent surge in COVID-19 positive cases, we are on move and decided to conduct RTPCR rapid antigen test every day from 12:00 to 3:00 in all community health centers in the district to trace the coronavirus infected persons."
"Now people from remote areas do not have to come to Sadar Hospital for their COVID test," he said.
Expressing concern over the spurt in Coronavirus positive cases in the district Pathak said, with a large number of tests at different locations in the districts positive persons would be traced out very fast and after isolation, they will get the proper treatment. It will help in a long way to curtail the spread of the virus, he said.
Bokaro saw a major spurt in COVID-19 positive cases during the past few weeks. On 6 August 71 fresh Coronavirus positive cases were reported in the district which was the highest one by till date. While on 9 August 12 new cases were reported, 41 were reported on 10 August, 46 (on 15-16 August), and 44 new cases were reported on 17 August (late night), he informed.
All of them were shifted to COVID hospital at Bokaro, contact tracing of all of them is being done, said Civil Surgeon.
Among the positive cases, people are the residents of Chandrapura, Chandankiyari, Sector 8, Sector 5, Sector 4, Sector 11, Sector 12, BTPS, Nawadih, Gomia, Tetulia, Jaridih, Chas, Joshi Colony, Balidih and form Adarsh Co-operative Bokaro, he said.
"Now Bokaro district has a total of 201 active cases, while 412 people have been recovered and discharged from hospital so far after they were tested negative for the Sars-Cov-2 virus for the second time and sent back to their home after recovering fully," said Pathak.