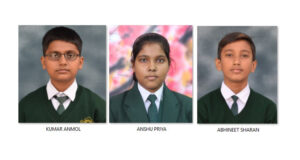 JNS I Bokaro: Exhibiting exceptional performance, three students of DPS Bokaro secured ranks at National and Zonal level in Vidyarthi Vigyan Manthan (VVM) 2019-20. VVM is a national programme for educating and popularizing science, a school authority informed.
In this coveted exam Kumar Anmol of Class VI bagged National Rank 3 whereas Anshu Priya of Class X and Abhineet Sharan of Class VII secured ranks 1 and 2 respectively from the East Zone. The winners of the National level are titled 'Himalayans', he said.
The final examination for VVM was postponed due to the pandemic and was conducted virtually in the first week April, 2021. The results for the same were declared yesterday, said the authority.
The winner of the National Rank will be awarded with a cash prize of Rs. 10,000 and the other two Zonal Rank holders will be awarded with Rs. 5000 and Rs. 3000 respectively, he said.
Vidyarthi Vigyan Manthan (VVM) is a national programme jointly organized by Vijnana Bharati, NCERT and Vigyan Prasar with the objective to identify keen knowledge seekers in Science and then nurture them for higher level of science education.
Principal, DPS Bokaro A. S. Gangwar expressed his happiness on this achievement. He said "The result reflects the glory that merits National pride. The students have proved that with grit and determination, they can write their own success stories. I send my blessings and wish them the best."