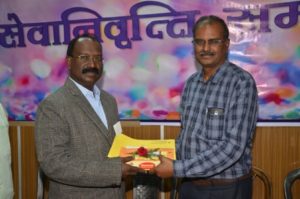 About 68 employees of SAIL's Bokaro Steel Plant (BSL) got retirement here on Thursday. All retiring employees including 11 executives and 57 non-executives were given warm farewell in a function organised in a Conference Hall at HRD Center of BSL.
On this occasion, V Ramakrishnan, General Manager (Shops and Foundries) was the chief guest. He honoured them by giving a flowers, memento, shawl, and a certificate of honour on the behalf of the company and wished for a happy, prosperous, healthy and long life of the retired persons.    Speaking on the occasion Ramakrishnan opined that it is the collective effort, continues devotion and hard work that company has reached new heights. Various other officers also expressed their views.
The outgoing officers, employees also shared their work experiences in the company. Besides other, U K Porua, Dipti Singh, Dr Nanda Priyadershini, Surender Upadhayay including others officials were present on the occasion.