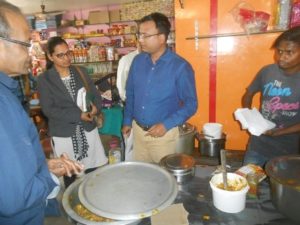 A day after at least 38 students were rushed to hospitals after consuming food supplied by a mess (Kanha Mess) under Sector police station in Bokaro Steel City, two teams of district administration sleuths along with the Food and Drug Administration (FDA) officials carried out an inspection at the mess.
One team lead by executive magistrate Aruna Kumari and Subhash Dutta and another team led by food and safety officer Dr B Mishra and Dr Anil Kumar carried out inspections in the premises of Kanha Mess.
We have carried out an inspection of the mess where the food parcels were prepared. Food samples have been collected and will be sent for lab analysis, said Dr Mishra.
"We are also inspecting how the food was prepared if any sub-standard procedures were followed. The premises are being checked for hygiene," said Dr Anil.
The incident occurred on Sunday late night, about 38 students from different hostels who consumed lunch supplied by the mess fall ill and admitted to different nursing homes. Later at 9.15 PM when their condition becomes critical they all were referred to Bokaro General Hospital (BGH), said S Murmu Civil Surgeon Bokaro.
"We are investigating into the matter and looking for lapses, later case will be registered", said Civil Surgeon.
The children began reaching the hospital around 9 p.m. on Sunday; by late night 38 students had reached the hospital. Four of them were discharged in the morning as their condition was good and they have to appear in their examinations, said a hospital authority.
"The rest thirty-four students were discharged after 1 PM when their conditions improved", added the authority.