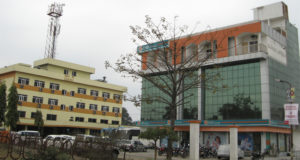 Ashis Sinha I Bokaro: To prevent the spread of COVID-19, Bokaro district administration has been taking several measures; keeping a strict vigil on the people returning to their home from outside.
At least ten hotels of Bokaro and Chas has been converted into a quarantine center in a bid to curtail the spread of COVID-19, informed Shakti Kumar District Disaster Management Officer Bokaro.
Following the directive of Deputy Commissioner Bokaro Mukesh Kumar, we are keeping a close watch on those people returning their homes outside the district. 'Public safety is the top priority, people will be safely isolated or quarantined for 14 days,' he informed.
We have converted 246 hotel rooms into quarantine rooms, includes Hotel Blue Diamond (15 rooms), Hotel Reliance (14), Hotel Ginger (14), Hotel Classic (52), Hans Regency (40), Hotel Baibhav (26), Hotel Neel Kamal (25), Hotel Rajdoot (30), Prabhat Palace (16) and Veena Regency (32) so that people- particularly incoming travellers can be quarantined for a fortnight, said Kumar.
"It is a matter of great relief that all the samples sent for investigation for COVID-19 infection from Bokaro district have been found negative. However, the number of visitors from outside in the district is 3353 (includes 70 from abroad), all of them are in the home quarantine as no symptoms of cough cold and fever had been found on them, said A K Pathak Civil Surgeon Bokaro.
"Their health conditions are being monitored," added Civil Surgeon.
Quarantining yourself at home means staying at home and avoiding contact with others if you have developed, or been exposed to, an infectious disease, until the infectious period of the illness, is over, or until you know that you have not contracted an illness to which you have been exposed, said a medical expert of the district health department.
Quarantine helps to slow the spread of infection across a population, he said.
The home quarantined person should stay in a well-ventilated, single-room, preferably with an attached or separate toilet. If another family member needs to stay in the same room, it is advisable to maintain a distance of at least one meter between the two, he said.
It needs to stay away from elderly people, pregnant women, children and persons with co-morbidities within the household; restrict his or her movement within the house; under no circumstances attend any social or religious gathering like wedding, condolences including others; he should also follow the under mentioned public health measures at all times, said the expert.
"Wash hand as often thoroughly with soap and water or with alcohol-based hand sanitizer; avoid sharing household items e.g. dishes, drinking glasses, cups, eating utensils, towels, bedding, or other items with other people at home; Wear a surgical mask at all the time; the mask should be changed every 6-8 hours and disposed-off, disposable masks are never to be reused," he added.
A used mask should be considered as potentially infected; if symptoms like cough, fever, difficulty in breathing appear, he should immediately inform the nearest health centre, he said.
Precaution must be taken by the family members of persons being home quarantined. Only one assigned family member should be tasked with taking care of such person; avoid shaking the soiled linen or direct contact with skin; use disposable gloves when cleaning the surfaces or handling soiled linen; wash hands after removing gloves; visitors should not be allowed; in case the person being quarantined becomes symptomatic, all his close contacts will be home quarantined for 14 days and followed up for an additional 14 days or till the report of such case turns out negative on lab testing, urged the expert.