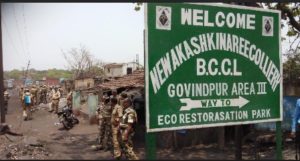 Dozens of people including two scribes were injured in the battle for supremacy under Baghmara police station at Katrah in Dhanbad district on Wednesday. Several rounds were open fired, bombs exploded at Akash Kinari colliery belongs to Bharat Cocking Coal Limited (BCCL).
Terming the situation as under control SP (Gramin) Ashutosh Sekher said, cops were deployed and Section 144 was imposed following a clash between two groups at Akash Kinari colliery area.
According to an eyewitness, two people were sustained bullet injuries while two scribes got multiple injuries following a clash between the supporters of BJP MLA Dhullu Mahato and a Coal trader Subash Rai at Akash Kinari colliery over the battle for supremacy in the area.
MLA supporters opened some rounds of fire while some hurled bombs, stones, rods during the clash, said another eyewitness.
The injured were rushed to the PMCH and other local hospitals where conditions of few of them are stated to be serious, hospital sources said. "People who got minor injuries were released after providing first aid", added the sources.
The situation got controlled when police along with DSP Baghmara Brahyaman Tuti rushed on the spot. "Policemen have been deployed in large numbers in the area to prevent further violence", said DSP.