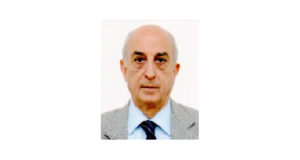 Bokaro: The Director and Principal, Delhi Public School (DPS) Bokaro, Dr Hemlata S Mohan, has congratulated V K Shunglu, Chairman DPS Society and former Comptroller and Auditor General of India, for being conferred on Padma Bhushan. Shunglu was among the 14 personalities conferred on Padma Bhushan by the President of India on January 25, 2019, for distinguished service of high order. Dr Mohan expressing joy in a congratulatory message to Shunglu.
Dr Mohan said, "It is a matter of great pride that Shunglu is honoured with one of the highest civilian awards of the nation and it is indeed a proud moment for all of us." He has always been a guiding force with great leadership quality which has helped DPS Society grow in new dimensions keeping up with the present education system, she added.
Shunglu (Retd. IAS) served as Comptroller & Auditor General of India until March 15, 2002. Besides serving as Chairman DPS Society, he also serves as the Chairman at ASREC (India) Limited. He represented Government of India at International Bodies likes Asian Development Bank, IMF/World Bank, International Organization of the Supreme Audit Institutions, Asian Organization of the Supreme Audit Institutions, ASOSAI, etc. He was conferred the John Kandusch Award by INTOSAI in 1998. He serves as an Independent Director at The Delhi Safe Deposit Co. Ltd. He is also on the Board of Delhi Safe Deposit. Shunglu did his graduation in Economics from St. Stephens College, the University of Delhi in 1959, and post graduation in History from the University of Delhi in 1961.