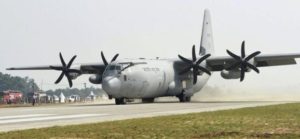 Steel Authority of India (SAIL) supplied 33500 metric tonnes of steel for the construction of the Agra-Lucknow expressway which facilitated the touch-and-go landing of planes of the Indian Air Force, today. SAIL had primarily supplied long products consisting of earthquake resistant TMT bars for this project. SAIL's branded earthquake resistant EQR TMT Bars have superior qualities and come in various customized specifications.
IAF conducted the touch and go landings on a stretch of the expressway today, starting with a 35,000-kg C-130J Super Hercules aircraft. This is the first time that the C-130J transport aircraft joined the Indian Air Force's special drill to land planes on the expressway. The IAF had earlier landed its Mirage 2000 and Sukhoi-30MKI fighter jets on the Yamuna Expressway and the Lucknow-Agra Expressway.
Keeping with the spirit of SAIL's tagline, 'There's a little bit of SAIL in everybody's life', the Company is increasingly focusing to produce world-class steel products befitting the requirements of every segment and market including the specific needs of rural and urban areas to meeting the   necessities of niche segments like defence sector too. SAIL steel has been integral in projects of national importance spanning from Sardar Sarovar Dam, Dhola-Sadiya bridge, Chenani-Nashri tunnel to various metro projects, power plants and upcoming Statue of Unity at Gujarat.