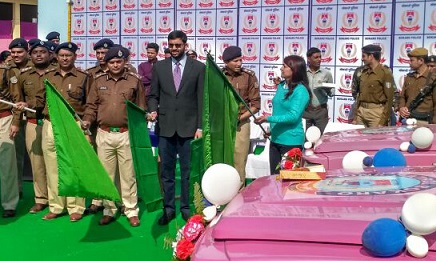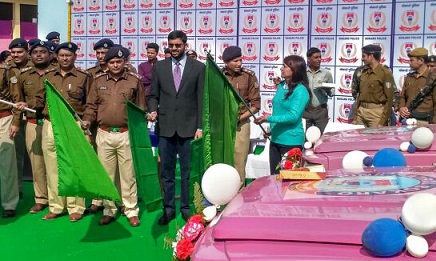 Aiming to enhance women's security, the Bokaro police rolled out two units of Pink Police Patrol in Bokaro city on Wednesday. The services of the vehicle, first launched in Jharkhand, can be sought by contacting the 100 which is a toll-free number.
IG (CID) Sampat Meena along with Bokaro DC Rai Mahipat Ray, IG Saket Kumar Singh, SP Bokaro YS Ramesh formally launched the vehicles which responsibility has been given to the woman police station.
Speaking on the occasion Meena said, "This is the first four wheeler police patrol in Jharkhand which will help in a long way curb the crime especially against women. All the credit goes to SP Bokaro to launch such service to extend help to the women."
In case of stalking, harassment, teasing or any unwarranted advances by the criminals, women are requested to contact on 100 for instant assistance, said DC Bokaro.  "Pink patrol will act on such issue immediately," he added.
Appreciating the move Saket Singh  IG North Chhottanagpur said, this is first of its kind, are not only expected to be watchful to the happenings around against feminine gender, but equally be all ears to complaints, particularly of eve teasing, sexual harassment as well as domestic violence.
"Presently, these are equipped with small arms, fiber sticks, Bar lights, Siren, Mic System and for tracking only GPS device is available, but we are planning to equip the vehicles with continuous tracking devices soon," he added.
Each vehicle will be led by a woman police officer and will have four other women police personnel. The patrol vehicles will be deployed in areas that have high presence of women and on will function round the clock, he said.
The pink patrol vehicles will be deployed near schools and colleges, marketplaces to ensure the security of women. It will also help the women in solving their domestic violence-related issues and other harassments, said SP.
A legal advisor is also available with the vehicles to convince and tackle the situation, he said.
While asking about 'Pink' SP said, "It is the general belief that blue is for boys and pink is for girls, so we have named the initiative "Pink Police Patrol".