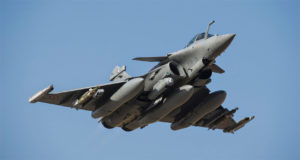 JNS: Five Rafale fighter jet takes off from France for India on Monday will rush at Ambala airbase on Wednesday.
The aircraft will cover a distance of at least 7,000 km (between India and France) with air to air refuelling and a single stop at UAE before arriving at Ambala airbase.
"All five Rafales have landed safely in Al Dhafra airbase in United Arab Emirates (UAE) after a sortie in excess of seven hours," said IAF. The jets were accompanied by mid-air refuelling aircraft of the French Air Force on the first leg of the visit from Merignac airbase at Bordeaux in France to the UAE, it said.
After a night halt in the UAE, the jets will take off on Tuesday to their home base in Ambala,
"These five include three single-seater and two twin-seater aircraft. The aircrafts are likely to arrive at Air Force Station, Ambala, on July 29 subject to weather," the IAF said in a statement.
"This is going to add a great deal of strength to our air power and defence preparedness. But it is also a powerful symbol of the strategic partnership between India and France," said India's Ambassador to France Jawed Ashraf before the jets took off.
The Indian Embassy in Paris said in a statement, "Delivery of 10 aircraft has been completed as per schedule. Five will stay back in France for a training mission. Further batches of IAF personnel will continue the training over the next nine months". Delivery of all 36 aircraft would be completed as per schedule by end 2021, The Hindu reported.
Notably, the two countries inked an agreement to supply 36 of the multi-role jets to the Indian Air Force which is a 59,000 crore Rupee deal.