Free OPD, telemedicine facilities launched in Bokaro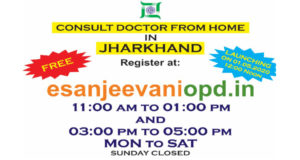 JNS: Taking a citizen-centric initiative to ensure uninterrupted health services to the mass due to the wake of the COVID-19 pandemic, Bokaro district administration has launched e-Sanjeevani– Online OPD (Doctor to Patient), integrated telemedicine solution on Friday.
On the directive of Deputy Commissioner Bokaro Mukesh Kumar this service has been launched, it extends the reach of specialized healthcare services to the masses in both rural areas and any isolated community pockets, informed AK Pathak Civil Surgeon Bokaro."It provides a platform for citizens to connect with a network of Specialist doctors over video conferencing and obtain medical treatment and advice for common health-related concerns while sitting at home," he added.
Though, we all the doctors and health workers here are also ready to provide health care to the people with full diligence day and night, he said.
'e-Sanjivani' OPD and telemedicine service has been available to provide medical consultation to the people through phone call and WhatsApp, during the lockdown period daily (except Sundays) in Bokaro.
From 11:00 am to 1:00 pm in the first shift and from 3:00 pm to 5:00 pm in the second shift, various doctors of the district will be available on the telephone and WhatsApp, will give free medical advice, said Pathak.
Meanwhile, the district administration also appealed to all the private as well as retired doctors and health workers to come forward voluntarily and help the society in this time of need, so that people who need medical advice or counselling can be benefited by getting free medical advice at home through this service during the lockdown.