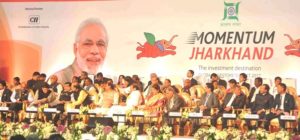 Jharkhand gets Rs 5000 crore investment announcement from Vedanta group 
The first day of Global Investors Submit (GIS) kicked off with high hope of investment and several announcements of the industrialists. Vendata group announced to invest Rs 5000 crore, Navin Jindal announced to expand the exiting steel plant capacity from 1.5 million tones to 6 million tones.  Anil Agarwal, Founder-Chairman, Vedanta Resources Plc, said: "This is a ghar-wapasi (home-coming) for me. In Jharkhand, we have no investments but it is my commitment we will invest Rs5,000 crore as a pilot investment. While 90% of exploration has happened globally, it is only 10% in India. The natural and human resources available in Jharkhand are not available anywhere."
Ratan Tata, Interim Chairman, Tata Group, said: "My first job in India was in Jamshedpur where I worked for six years. To promote development, India will have to widen its base to new places. Jharkhand is one such place where the opportunity for development is immense. I urge my compatriots, both in India and beyond, to embrace the opportunities in this exciting land."
Union Finance Minister Arun Jaitley Thursday inaugurated the Government of Jharkhand's maiden two-day , 'Momentum Jharkhand Global Investors' Summit 2017', at Khelgaon, Ranchi.
Prime Minister Narendra Modi sent a message of support to the Global Investors' Summit: "Jharkhand has taken several noteworthy steps to improve the 'Ease of Doing Business'. The State's strategic location is key to the development of the entire Eastern region. Its mineral wealth has a vital role to play in the success of the 'Make in India' initiative. I'm sure the Summit will provide a good occasion for the State to apprise the global investor community about the conducive business climate that Jharkhand offers. I extend my best wishes for the success of the Summit and hope it will deliver concrete outcomes, enabling Jharkhand to emerge as one of India's new growth engines.".
Jharkhand Chief Minister Raghubar Das elaborated the steps undertaken by his govt facilitate the investors.
Besides those from India, more than 9,000 delegates are attending the Summit from partner countries – Japan, Czech Republic, Tunisia and Mongolia – as well as from 28 other nations such as Australia, the US, the UK, Ukraine, Russia, China, Canada, Nepal, Nigeria, Singapore, Saudi Arabia, Sweden, Sudan, Korea, UAE, Italy, Oman, Venezuela and Pakistan, among others.