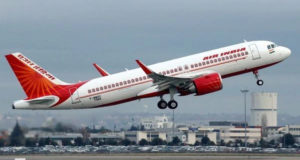 New Delhi: The Coronavirus havoc started from Wuhan city of China is spreading all over the world. According to the latest information, Air India special flight reached Delhi on Sunday morning with the second batch of Indian passengers. 330 people have been brought to Delhi from this flight. It includes seven citizens of Maldives besides 323 Indians. The special aircraft left Wuhan (China) at 3.10 am. With this, 654 people have been brought to India from there. Air India has so far flown from New Delhi to Wuhan twice. So far, 304 people have died of Corona virus in China and 14,380 cases of infection have been reported.
Earlier, India's Ambassador to China Vikram Misri tweeted, "The second flight of Air India left from Wuhan with 323 Indians and seven citizens of Maldives." Thanks once again to China's Foreign Ministry and Hubei's local officials. In another tweet, he said, 'I thank the Indian Embassy in Beijing, the local authorities of Hubei Province and the passengers who have done the tricky airlift (task of evacuating people) for us for almost 96 hours in challenging conditions.
In another tweet, the Egyptian said, "Special appreciation to our two officers Deepak Padmakumar and M Balakrishnan who are on the plane with the passengers. He has shown exemplary courage and great service to the people by reaching the ground zero of Wuhan most affected by the Corona virus, overseeing the management related to the airport. Salutations to both of you. The Egyptian said that four Indians could not board another plane as they had a high fever.