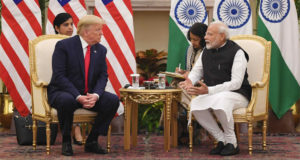 New Delhi: US President Donald Trump signed 3 billion dollar defence agreements with India during his two-day visit to India.
India and the US on Tuesday concluded a defence deals worth 3 billion dollars, and signed three MoUs, including one in the energy sector. In a joint press meet with PM Modi Trump announced that the two countries have finalised defence deals worth USD 3 billion and affirmed that their focus was on having a comprehensive trade deal.
According to the media reports, the defence deals worth over 3 billion dollars for 24 MH-60R Seahawk Multi-Role Helicopters for the Navy and six AH-64E attack helicopters for the Army on the sidelines of the discussions between PM Modi and U.S. President Donald Trump.
Speaking on the occasion Trump said, the relations between the two countries have never been as good as they are now. "The countries have made 'wonderful deal', will enhance our joint defence capability as our militaries continue to train and operate together side by side," he added.
The MH-60R helicopters are a critical requirement for the Navy which has an acute shortage on its frontline warships. The Seahawk deal is worth around $2.2 billion and the six Apaches cost around $800 million. To meet the urgent requirement, six Seahawks are expected to be delivered within a year and the rest as per the agreed schedule, media reported.
Deliveries for the Army are planned to begin in 2023, said Salil Gupta, President, Boeing India, in a statement.
Foreign Secretary Harsh Shringla said, President Trump has given the highest consideration to India in the procurement, technology and joint development in defence. "From 2014 onwards there had been about $9 billion in defence acquisitions from the U.S.," he said.