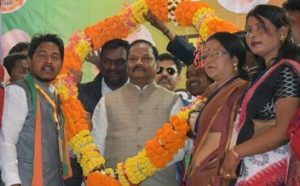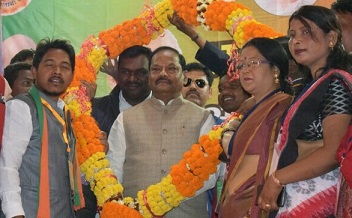 Chief Minister Raghubar Das has pitched in for development of tribals, saying Jharkhand is a tribal State and it can develop only when tribals are developed. He was speaking at the inaugural session of BJP's ST Morcha meet at Jaina More in Bokaro on Saturday.
Das said that the State could not be developed by developing cities like Tata, Bokaro, Dhanbad. The real growth will come only when villages are developed.
"Development of the State on all fronts is the only agenda of the government. In a bid to prevent migration from villages, our government is focusing to set up small, medium and micro industries. Through the Global Investors Summit, focus has been  accorded on setting up of medium, small and rural industries so that unemployment problem can be addressed," added the CM.
"Several national and international investors have showed their interest in the area of agriculture, food processing, textiles, higher education and healthcare," the CM said.
"The State government cannot provide employment to everyone, so Mukhyamantri Udyami Board has been constituted and the government will ensure imparting skill development training to the unemployed youth. There are tremendous growth opportunities in the lac and silk sector in the State," he added.
The CM said that Adim Janjati Vikas Pradhikaran has been constituted for the development of primitive tribes. Das urged the party workers to reach out to the tribals  and make them aware of their rights and ensure that they are getting the benefits of all government sponsored schemes.
"In the State budget, separate funds were allotted for the development of the Scheduled Tribes (ST) and Scheduled Castes (SC). A total of  `22,259 crore was granted for special schemes related to their upliftment," the CM said.
"Apart from agriculture, education and skill development and rural development, the budget also laid emphasis on women empowerment and infrastructure – electricity, roads, communication (including civil aviation and railways)," he said.
Others present on the occasion included Sports Minister Amar Kumar Bauri, Giridih MP Ravindra Pandey, and MLAs Ram Kumar Pahan, Gangotri Kujur, Viranchi Narayan, and Laxman Tuddu.