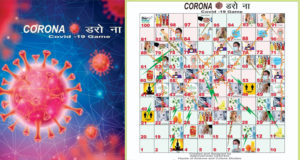 Ashis Sinha: Aiming to bring awareness among the mass about the infection and prevention of Coronavirus the members of Innovation Center House of Science and Culture Studies, Chittarpur has developed a COVID-19 indoor board game named 'Corona Daro Na'.
 This game is just like board game Snake and Ladders (Ludo) which aims to create awareness among people about this lethal disease informed Faiyaz Ahmad the director of the organization and theme designer of the game.
"This game also includes the factors that spread Coronavirus as well as facilities to protect from the symptoms of the disease and to increase resistance," added Faiyaz.
The game is the inspiration of Amitabh Ghosh, Coordinator of the organization; designed by Wasim Hassan and the graphics and layout has been created by Qamar Siddhik, he said.
Ludo is one of the most popular games not only in India but across the world. The Snakes and Ladders game originated in India as part of a family of dice board games that included Gyan chauper and pachisi (present-day Ludo and Parcheesi), said Faiyaz.
Snakes and Ladders, known originally as Moksha Patam, an ancient Indian board game regarded today as a worldwide classic. It is played between two or more players on a gameboard having numbered, gridded squares, he said.
"A number of ladders and snakes are pictured on the board, each connecting two specific board squares. The object of the game is to navigate one's game piece, according to die rolls, from the start to the finish, helped or hindered by ladders and snakes respectively," he added.
The game is a simple race contest based on luck. The historic version had root in morality lessons, where a player's progression up the board represented a life journey complicated by ladders and snakes.
"Later the game made its way to England and was sold as "Snakes and Ladders" and then the basic concept was introduced in the United States as Chutes and Ladders in 1943 by game pioneer Milton Bradley," added Faiyaz.
On the same pattern, we have designed this game and its rules, but the fun is full of awareness that can be spread against this epidemic, he said.
This game also includes factors like corona outbreak, symptoms, prevention, government facilities and enhancing individual immunity to curtail the spread of Coronavirus, informed Tauqeer Ahsan Khan Coordinator of the organisation.
"During this lockdown period, this game is a good way to spend time indoors; will also be trained and help people to fight against the epidemic," added Khan.
At the moment this game can be played with 2 to 4 people with the help of Dyes Goti inside the house. The centre wants to get it printed in large numbers and looking for financial supports. We also want to develop the android version of this game for smartphones, he said.
 "Do play this interesting game, stay home, stay safe, stay healthy," urged Khan.