'Kaizen Fair' held at Vedanta-Electrosteel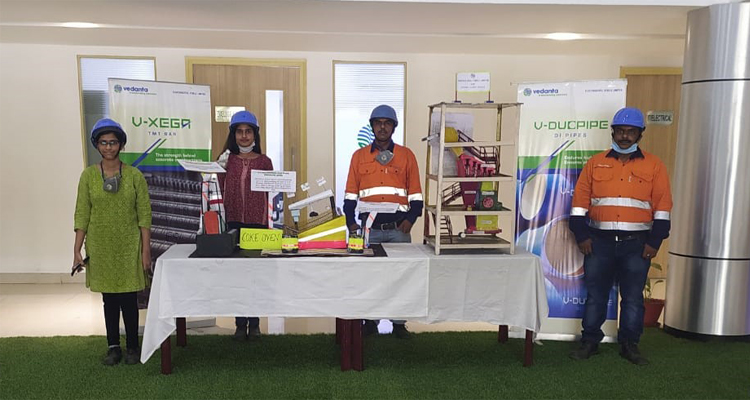 Bokaro: Aiming to encourage employees, Business Excellence Department of Vedanta Electrosteel (ESL) organized 'Kaizen Fair' in its premises at Siyaljori in Chandankiyari about 35 kms of district headquarter of Bokaro on Wednesday. Employees from various departments including Power plant, Cock oven, Store and Utility department demonstrated innovative ideas and exhibited their creative and functional models to improve plant operations.
ESL always welcomes new ideas suggested by its employees. New suggestions and techniques enhance business operations and help the company ensure the next stage of growth, said Shilpi Shukla Head – Corporate Communications ESL.
At the fair, employees exhibited their own models and demonstrated their various essential aspects. The power plant department showed through its model how small changes can bring improvement in production and operation as well, she said.
The Coke Oven team explained how to automate the main chimney that is currently being operated manually while the utility department explained how to make appropriate changes in the water treatment plant, and the store department suggested how the company can end the oil spill.
"All the employees were highly praised by the management for their unique initiative and latest thinking," she added.
Kaizen means a better or continuous change in the plant; helpful in correcting problems and helps in completing the operational flow, said Shilpi adding "Kaizen plays a very big role in exposing employees to new ideas and improving processes."
Its purpose is to make cost work and production simple. Keeping these things in mind, all the employees of ESL are coming forward with new ideas and presenting their ideas and with the help of these ideas we can achieve progress, she said.
ESL CEO Pankaj Malhan said, "Kaizen Mela is a very good initiative which will be very helpful for the progress and continued progress of our plant. I appreciate this initiative and hope that our workers with such new efforts will continue to come forward and work together in the progress of the plant."