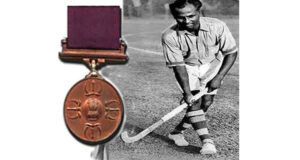 JNS: The country's highest sporting award, the Khel Ratna, has been renamed as Major Dhyan Chand Khel Ratna award; previously it was known as the Rajiv Gandhi Khel Ratna Award.
Announcing the decision on Friday, Prime Minister Narendra Modi said he had been receiving requests from people across the country to rename the award. "Respecting their sentiment, the Khel Ratna Award will hereby be called the Major Dhyan Chand Khel Ratna Award," he tweeted.
"Major Dhyan Chand was among India's foremost sportsperson who brought honour and pride for India," Modi added. "It is fitting that our nation's highest sporting honour will be named after him."
Meanwhile, Congress chief spokesperson Randeep Surjewala, at a press conference said, we sincerely hope Modi ji should not have used his myopic political motive to drag the name of a celebrated player like Major Dhyan Chand.
"Rajiv Gandhi ji is not known for any award; he is known for his sacrifice, for his ideas and for commitment to India and for his sacrifice for India and for the manner in which he transformed India in the 21st century," he added
"The party hopes now that a new beginning has been made and Modi will announce changing the name of Narendra Modi stadium and Arun Jaitley stadium and name them after legendary sportspersons like Milkha Singh, Sunil Gavaskar, Sachin Tendulkar, Kapil Dev, Leander Paes, P T Usha, Mary Kom, Abhinav Bindra and many others," said Surjewala.
Praising the PM Modi's decision, Home Minister Amit Shah said the move will make proud everyone associated with the sporting world.