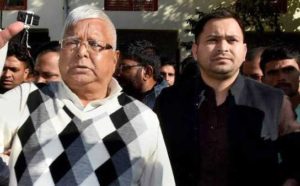 Lalu Yadav was jailed today after a CBI court in Ranchi found him and 15 others guilty of corruption in a fodder scam case when he was chief minister of Bihar. Six others, including former chief minister Jagannath Mishra, were acquitted. The court will rule on the jail sentence on 3 January 2018.
The former chief minister of Bihar had been charged in several cases related to the scam, in which Rs. 900 crore was embezzled from the state exchequer for fictitious medicines and fodder for cattle over a period of 20 years. The CBI started probing the case in 1996.
Official sources said Lalu was convicted in the case relates to embezzling of more than Rs. 85 lakh from the Deoghar Treasury between 1991 and 1994. Lalu Yadav faced accusations that as the Chief Minister and Finance Minister back in the nineties, he kept the file for an inquiry against the mastermind of the scam pending for 16 months and gave three other officials extensions despite objections from bureaucrats.
All total 34 people initially accused in the case, 11 died during the course of trial, while three turned approver and admitted to the crime.
According to the CBI, Lalu was aware of the scam but allowed the loot to continue by his inaction.
Earlier in October 2013 when Lalu Yadav was first convicted in a related fodder scam case, he had to spend over two months in jail before he got bail from the Supreme Court.