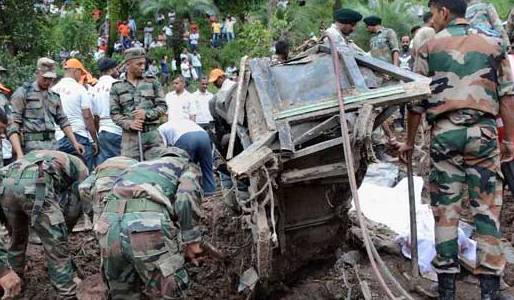 At least 50 people at Kotrupi village in Himachal Pradesh's Mandi district buried alive after a massive landslide early on Sunday morning. Tonnes of slush and boulders came down on a 250-metre stretch of the Mandi-Pathankot national highway burying alive the people.
According to the officials, 46 bodies had been recovered while five injured were admitted in the zonal hospital in Mandi town, after the landslide swept away two Himachal Roadways Transport Corporation buses with around 55 passengers on board, some private vehicles and several houses.
Forty-two bodies were pulled out of a Manali-bound bus, with 47 on board, which was swept 2km away and got buried under 50 feet of debris. It was coming from Chamba. The other bus, an AC coach headed for Katra from Manali, had eight passengers, of whom three are dead. A biker was also among the dead.
Officials said the landslide struck around 12.24am on the highway near Kotrupi, where the two buses had halted for refreshments.
Sources said the Katra-bound bus was first hit by a big boulder, then the landslide. The bus rolled down 200 metres into a gorge. Its mangled remains were later retrieved by rescue teams.
The administration closed the Mandi-Jogindernagar road and diverted vehicles through alternative routes.