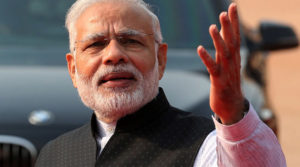 PM Narendra Modi on Sunday came out strongly against triple talaq and called for measures to ensure that "socially backward" in the community got benefits from affirmative action for OBCs.
In his address at the close of the BJP national executive here, Modi spoke on triple talaq, his pitch coinciding with his government's decision to defy influential Muslim clergy and conservative opinion to back abolition of the controversial "instant divorce" in Court, which is hearing a challenge to the social practice.
On triple talaq, he said all women had the right to live with dignity. "The PM dwelt on social justice and said our Muslim sisters should be saved from injustice".
"There are backwards in the Muslim community also. We must reach out to them. These welfare initiatives are for those who have been deprived of benefits of government policies," Modi said during a discussion on a resolution on constitutional status to the National Commission for Backward Classes