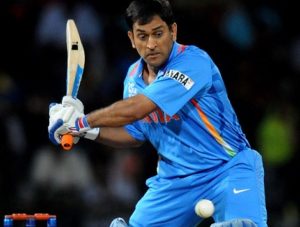 MS Dhoni scored his 10th ODI century against England in the second of the three match ODI series at Cuttack. In a …. run partnership with Yuvraj Singh, Dhoni got to the figure in 103 balls. Normally known for providing the finishing touch to the Indian innings, Dhoni had to play a different role on Thursday as he came in when India were tottering at 25/3 with the fall of Shikhar Dhawan.
India vs England Live Score
Yuvraj Singh and MS Dhoni have rolled back the years to get the Indian innings into a strong position after they lost their first three wickets early. Among the three was that of skipper Virat Kohli. Dhoni has since played the perfect supporting role as Yuvraj plundered the English bowlers.
Dhoni himself has stretched his arms more than once. In his innings so far he has smashed 9 fours and 3 sixes. One of the sixes that he had scored was disqualified as it had hit the spider-cam. But such is his form that he dispatched the next ball for a six yet again, thus making up for the lost runs.