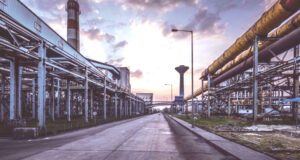 Bokaro: To commemorate the national Independence Day, the management and employees of Vedanta-Electrosteel Steels Limited (ESL), have taken a pledge to free the plant of "Single-use Plastic" (SUP), by banning its use within the plant.
The company will also run an extensive awareness campaign to sensitize people on the hazards of single-use plastic usage, urging people, including its employees and business partners to give up use of single-use plastic, not only at the plant, but also at their homes, informed PR official of ESL.
The company has also organized a virtual panel discussion for its employees focusing on the initiatives taken to conserve and protect natural resources, he said.
Plastic has emerged as a major pollutant for all forms of life and natural ecosystems. As per industry estimates, 300 million tonnes of plastic is produced globally every year, half of which is from single-use plastic items. That is equivalent to the weight of the entire human population. Around 91 percent of all plastic is not recycled, and ends up in landfills harming the environment.
Speaking on the occasion, Pankaj Malhan, CEO, ESL said, as a responsible corporate, we have a number of ongoing initiatives focused on sustainability, aimed to positively impact the environment.
We are all aware of the negative impact that single-use plastic has on the environment and on this Independence Day, we have decided to gain freedom from this major pollutant, by completely banning single-use plastics at our plant, said Malhan adding "I request and encourage the people of Jharkhand to join us in this initiative to safeguard the environment."
"In addition to our focus on the environment, ESL also remains committed to support the Govt. Of India's vision of 'Atmanirbhar Bharat', by continually innovating to produce high value, low cost steel, to help reduce India's steel imports", Malhan added.
Sandeep Acharya, Chief HSE, ESL said, "We are pleased to announce the initiative to gain freedom from the use of single use plastic. At ESL, we are committed to the triple bottom line of people, planet and prosperity and, will continue to adopt measures that can give back to the community and environment."
ESL, a Vedanta Group company, is committed to a Zero harm, Zero Waste and Zero Discharge policy. In addition to the ban, 50 per cent of all plastic used in the plant will be recycled and used for road construction.
ESL will also include an Extended Producer Responsibility Clause in vendor agreements to make sure that no plastic material or package delivery occurs at the plant.