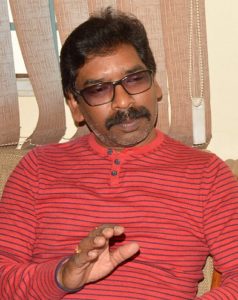 Chotanagpur Tenancy (CNT) and Santhal Pargana Tenancy (SPT) Acts are the soul of Jharkhand; they should be alive. We are committed to keeping acts alive, said Hemant Soren the former Chief Minister and JMM working president, while talking to mediapersons in Bokaro on Friday.
"Without taking consent from the Opposition parties, the State Government introduced amendments in CNT and SPT which is beyond their jurisdiction, alleged Soren.  Though, we (Opposition parties) including Jharkhand Mukti Morcha (JMM) are ready to discuss on both acts," he said.
"The Government brought amendments to the bill as a part of a conspiracy. The Act already has provisions where the landowners could give or sell their agricultural lands for non-agricultural purposes, but with the government unconstitutionally passage the bill", Soren said.
The government does not have the power to tamper with the tenancy laws; he said adding, "Following the several suggestions which rushed into the assembly, the amendment in CNT and SPT are the need and demand of the time".
Branding state government as incompetent and indecisive Soren said that government failed to keep their promises and all developmental works are stand still; corruption and crime are on its rise, alleged Soren.
Criticizing the Union Budget-2017 Soren branded it as "anti-poor and anti-farmer". The budget does talk about farmers, the unemployed youths and most importantly government's scheme of demonetisation, he said.
Soren further said that Jharkhand did not get anything new in this budget. The movement of currency has stopped after demonetization, which will bring a huge economic slowdown in near future, he expressed.