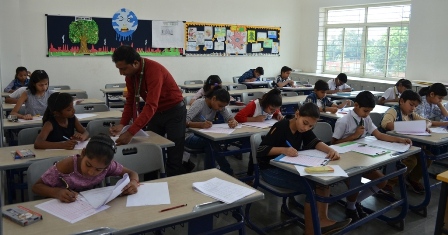 Over hundreds of students were appeared in the Merit Scholarship examination organised by Delhi Public School Chas; it was free and 'open to all'.
At least 153 students of class 2 to class 8 from various schools appeared in the scholarship examination which was free and 'open to all', informed Balaji Natarajan PRO of the school.
"The result would be declared on 3 April while the next level is scheduled to be conducted on 8 and 15 April," he added.
DPS Chas is providing scholarship schemes for the meritorious students, the students who will score 95 percent and above marks will get 100 percent 'freeship' while for those who will score 85 percent marks will get full tuition fee waiver and those who got 80 percent marks will get 50 percent fee waiver, said the official.
"Aiming to motivate and encourage the school students, Delhi Public School Chas will provide an opportunity for the meritorious students to travel free to Space Agency NASA. Five meritorious students from class 6 to Class 8, who will score more than 95 percent marks, will get an opportunity to travel NASA free of cost to understand the activity of NASA," he added.