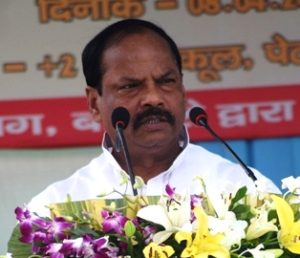 The Jharkhand Government has set for itself an ambitious target of eliminating  water crisis in the next five years. By 2022, every one across the State will get piped water supply.
"People would not face water crisis, be it for drinking purpose or for irrigation, by the year 2022 piped water will be supplied all over the State", said Water Resources, Drinking Water & Sanitation Minister Chandra Prakash Choudhary.
The Minister was speaking at the inaugural session of water supply project at Paterwar in Bokaro on Saturday.
Aiming to provide safe drinking water to the rural mass Chief Minister Raghubar Das today laid the foundation stone of Kasmar-Paterwar water supplies project at plus 2 High School at Paterwar, it will provide access to pure drinking water to as many as 72,000 families after completion of the project.
Speaking on the occasion CM said, "Offering drinking water to someone thirsty is a pious act, this is why wells and ponds have been constructed since past long."
Das also inaugurated the Bandh rural water supply project at Paterwar, a treasury building at Bokaro along with three community halls at Paterwar, Nawadih and Palamu; along with other small rural schemes worth of Rs780.44 lakhs at Bokaro.
CM appealed to all residents not having a toilet, to get one constructed as soon as possible. "We have plans to make all panchayats ODF by 2022", he added.
On this eve CM also felicitate the head of the Panchayats, declared ODF, under Clean India Mission. The honored Panchayat heads were Ganesh Kumar Thakur of Godaballi Panchayat Chas, Kanchan Devi, head of Panchayat Bermo, Shyam Bihari Singh panchayat head Govindpur, Tulia Devi panchayat head Boria, Shila Devi panchayat head of Daria, Nisha Devi panchayat head of Chalkari North, Sumitra Devi head of Ponda, Deepchand Yadav of Dharwatand Panchayat along with the member of the village organisation Rukmani Devi of western Hishim Kasamar also honored with a citation for outstanding work under Swachh Bharat Mission. Das also distributed 'Swavalamban card' under health insurance scheme among the beneficiaries during the programme.