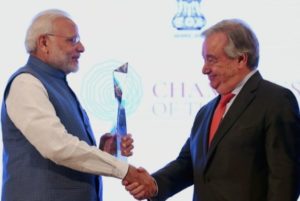 JMNS/New Delhi: Prime Minister Narendra Modi received the United Nation's highest environmental honour, the 'Champions of the Earth Award', in a ceremony at Delhi on Wednesday.
Modi received that award from United Nations Secretary-General Antonio Guterres.
"It is an honour for Indians", said Modi.
"Indians are committed to saving the environment. Climate and calamity are directly related to culture; if the climate is not the focus of culture, calamity cannot be prevented. When I say 'Sabka Saath,' I also include nature in it," he added.
"The world needs bold leadership on climate action. I thank India for setting an example and was pleased to present Prime Minister Narendra Modi with the Champions of the Earth Award," Guterres tweeted after the event.
The UN Environment Programme stated: the award was announced Wednesday for his "unprecedented pledge to eliminate all single-use plastic in India by 2022." Modi and French President Emmanuel Macron were recognised in the 'Policy Leadership Category' for their "pioneering work in championing" the International Solar Alliance and "new areas of levels of cooperation on environmental action."