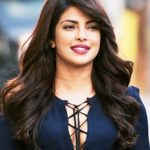 Priyanka Chopra has returned to work on the sets of the American TV show Quantico after suffering a concussion in an on-set accident last week.
She returned to work on Monday. The actress' representative confirmed the news to The Hollywood Reporter on Tuesday, reports dailymail.co.uk.
Her representative said: "While she is still sore and stiff from her fall, she is getting stronger every day and is happy to be back at work." Priyanka was injured while shooting on the sets of the second season of the hit drama series Quantico. According to sources, she slipped and fell during a stunt and suffered a concussion after hitting her head.