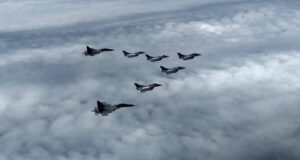 JNS I Ambala: The first batch of Rafale fighter jets (built by Dassault Aviation) that took off from France on Monday has landed at the Ambala airbase on Wednesday afternoon and the crew members were welcomed by Indian Air Force (IAF) Chief Air Chief Marshal (ACM) R.K.S. Bhadauria.
The five jets- three single-seat and two twin-seat, were flown from France by IAF pilots led by Commanding Officer of No. 17 'Golden Arrows' Squadron Group Captain Harkirat Singh. The squadron of Rafale jets will be stationed at the Ambala airbase in Haryana.
The jets took off from the Merignac the airbase in French port city of Bordeaux on Monday and will arrive here after covering a distance of 7,000 km with air-to-air refuelling and a single stop in the United Arab Emirates.
In historic moments for the Indian Air Force, the first batch of five Rafale combat jets entered the Indian air space on its way to Ambala airbase from France, officials said.
Air Force chief Air Chief Marshal RKS Bhadauria would be visiting Ambala today to receive the first batch of five Rafale combat aircraft arriving from France.
"The five Rafales escorted by two Sukhoi (SU30 MKIs) as they enter the Indian air space," tweeted Defence Minister's Office.
As the jets landed at Ambala, they were given a water cannon salute at Ambala base station.
These are the first imported fighter to be inducted into Service since the Sukhoi-30s from Russia in 1990. A formal induction ceremony of the Rafale aircraft in 17 Squadron is scheduled to be held in the second half of August, the IAF said in a statement.
In September 2016, India and France signed the Inter-Governmental Agreement (IGA) for 36 Rafale multirole fighter jets in fly-away condition with 13 India Specific Enhancements (ISE) following a surprise announcement by Prime Minister Narendra Modi in April 2015, citing "critical operational necessity" of the IAF.
The Rafale was originally selected under the Medium Multi-Role Combat Aircraft (MMRCA) tender issued in 2007 but the final deal got stuck due to differences and the tender was eventually withdrawn after the emergency purchase announced by PM Modi, The Hindu reported.
Rajnath Singh took formal delivery of the first jet in France in October 2019 and the jets have since been used for training there. Delivery of 10 aircraft has been completed so far, of which five will stay back in France for training. Delivery of all 36 aircraft will be completed as per schedule by end 2021, it reported.