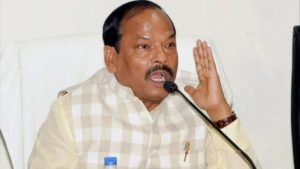 Chief Minister Raghubar Das has welcomed investment coming to the State from all over the globe including China. The willingness shown ahead of the Global Investor Summit slated in February holds importance.
The Chief Minister expressed this during a delegation coming from the Asian giant that called him up on Friday. "We have to develop the State on a fast pace. People of the State want development at any cost. We welcome all those who want to become a partner into this. The State Government is inviting investment from across the world and we are willing to extend technical cooperation for that," said he in his address to the delegation.
The CM on the occasion underlined immense potential lying with the State. "The State holds great potential in every field which is needed to be explored. The Government is organising Global Investor Summit on February 16-17 and we also welcome the Chinese to attend this," added the CM.
Notably, the Chief Minister had recently led a strong delegation to China and road shows were organised in several cities along with holding high level meetings with top Chinese firms.
During the meeting companies from China such as Freetech Road Recycling Technology, WoDun ZhiHui Management, Traffic Control Technology, Yizheng City ShunTian chemical, Schneider Auto Control, GaoNeng Actuator, Wuxi light cable remained present and their representatives showed interest in investing in the State. Le Hang led the delegation.
'Freetech Road Recycling Technology' on the occasion gave a presentation and shared new technique with it for maintenance, upgrading and building greenfield roads. The company showed this in detail with a video presentation and claimed that it can build three kilometers of road in a single day with the help of the latest technique.
The company also expressed interest in working on PPP mode with the State Government.
Chief Secretary Rajbala Verma and Secretary to the Chief Minister Sunil Kumar Barnwal were present on the occasion.