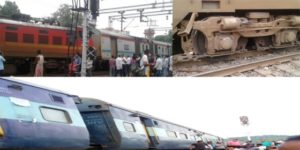 A Delhi-bound Rajdhani express went off the tracks at Delhi few hours after seven coaches of the Shaktipunj Express derailed in Uttar Pradesh; no casualties were reported in the two accidents, said a railways official.
The 12439 Ranchi-Delhi Rajdhani Express, which runs via Bokaro, was entering Delhi when the engine derailed at around 11.45am while Seven coaches of the Howrah-Jabalpur-Shaktipunj Express derailed in Uttar Pradesh on Thursday morning at 6.15 am.
"The engine and power car of the Rajdhani express are affected. Since the speed of the train was very low, there was no injury to any passenger", added the official.
While in another incident the seven coaches from the rear end of Train no. 11448 derailed, just after leaving the Obra station in Uttar Pradesh, around 80km from Varanasi at 6:13 a.m.; "we have already cleared out the site. All passengers were put on the remaining coaches and by 7.28am all of them had left the spot. All of them are safe and no one was injured in the accident," said railway authority.
The train, coming from Howrah, was running at a speed of about 40km per hr, so no one was injured when the tail coaches derailed.
The Shaktipunj derailement was the third such in Uttar Pradesh in less than a month, On August 19, the Kalinga Utkal Express derailed in Muzaffarnagar district, killing 22 people. On August 23, the Kaifiat Express derailed in Auraiya district.