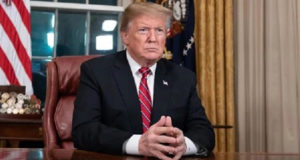 JNS: Following the ban on the export of the anti-malarial drug by Indian Government US President Donald Trump requested Prime Minister Narendra Modi to supply Hydroxychloroquine tablets (an anti-malarial drug) that can be used in the treatment of COVID-19 patients.
US President said that during a phone call with PM Modi on Saturday he requested more of the drug because the country made it in "large amounts".
He announced at the White House Coronavirus task force briefing that he requested PM Modi for more Hydroxychloroquine tablets.
According to the reports, Trump said, "during a telephonic conversation I have requested PM Modi (on Saturday) to lift a hold on the US order of the medicine."
"I may take it too, will have to talk to my doctors," he added.
"India makes a lot of it. They need a lot too for their billion-plus people. The hydroxychloroquine, the anti-malaria drug will be released through the Strategic National Stockpile for treatment," he said.
"I said I would appreciate if they would release the amounts that we ordered" of hydroxychloroquine, he said.
After the approval of U S Federal Drug Administration, the anti-malaria drug along with a combination of some other drug is being used in the treatment of about 1,500 COVID-19 patients in New York.
"It would be a gift from heaven if the drug yields positive results," Trump told to the reporters.
On 25 March, India's Directorate General of Foreign Trade banned the export of Hydroxychloroquine but said that certain shipments on humanitarian grounds may be allowed on a case-by-case basis.