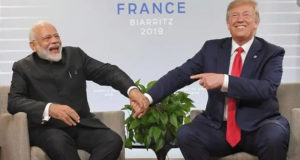 JNS: US President Donald Trump postponed the next meeting of the G7 on Saturday calling it a "very outdated group of countries" and wanted that India, Australia, South Korea and Russia be included and the grouping called G10 or G11.
Trump said that he wanted to include India, Russia, South Korea, and Australia in the group. "I'm postponing it because I don't feel that as a G7 it properly represents what's going on in the world," he added.
The summit was scheduled to be held through June 10-12 at Camp David in the US.
Trump also said he is postponing the next meeting of the G7, which the US is hosting, to September or November. He said he had "roughly" discussed the idea with the leaders of the four countries he would like to add to G7, reported media.
According to the US media report, Trump mentioned Russia, which was part of G8 until it became G7. Sections of the strategic community in the US want the administration to develop tactical ties with Russia to balance China. Trump has suggested earlier that Russia be readmitted to the group, arguing, as he did before the 2019 summit in Biarritz, "because a lot of the things we talk about have to do with Russia".
The G-7 or 'Group of Seven' are Canada, France, Germany, Italy, Japan, the United Kingdom, and the United States. It is an intergovernmental organisation that was formed in 1975 by the top economies of the time as an informal forum to discuss pressing world issues. Canada joined the group in 1976, and the European Union began attending in 1977.
Initially formed as an effort by the US and its allies to discuss economic issues, the G-7 forum has deliberated about several challenges over the decades, such as the oil crashes of the 1970s, the economic changeover of ex-Soviet bloc nations, and many pressing issues such as financial crises, terrorism, arms control, and drug trafficking.
The G-7 was known as the 'G-8' for several years after the original seven were joined by Russia in 1997. The Group returned to being called G-7 after Russia was expelled as a member in 2014 following the latter's annexation of the Crimea region of Ukraine.
Since his election in 2016, President Trump has suggested on several occasions that Russia be added again, given what he described as Moscow's global strategic importance, it reported.