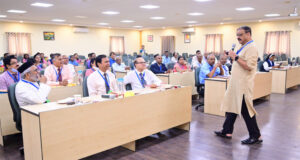 Bokaro: DPS Bokaro, under Dr. Radhakrishnan Sahodaya School Complex, Bokaro, organised a session on Pedagogical Leadership to empower leaders who will set new standards of excellence. Mukesh Shelat, Principal, DPS Varanasi, was the Resource Person on occasion.
A lot of advancements have changed how education is taught nowadays. A leader challenges others to find new resources within themselves. Keeping this in mind, we are organizing this session, said a Public Relation Official.
The two-day training in association with CBSE (Central Board of Secondary Education) commenced today in the Mahatma Gandhi Hall of Delhi Public School Bokaro Steel City. Representatives of various schools, including Principals of 36 schools of Bokaro district participated in it.
The inauguration commenced with the lighting of the lamp by the Resource Person along with A. S. Gangwar, President, Fr. Regi C. Varghese, Treasurer cum District Training Co-ordinator,
Soumen Chakraborty, Vice President, Biswajit Patra, General Secretary and Kamla Paul, Cultural Secretary of Dr. Radhakrishnan Sahodaya School Complex, Bokaro.
The students presented a musical presentation, which enthralled the participants with the welcome song "Apka Hai Abhinandan" followed by the school song "Aaya Hai Naya Savera".
Addressing the gathering, Shelat explained various aspects of pedagogical leadership interestingly with practical examples. Elaborating on the essential components of a successful leader, he stressed the need for developing team spirit, the culture of learning, self-awareness, vision and mission, including proper planning and roadmap.
Gangwar, President, Dr. Radhakrishnan Sahodaya School Complex, City Co-ordinator AISSE/AISSCE and Principal, DPS Bokaro highlighted the objectives and utility of this training programme. He emphasized that it is very important in the development of teaching and inculcating leadership qualities.
The Treasurer cum District Training Co-ordinator of Sahodaya Complex and Principal, MGM Higher Secondary School, Father Regi C. Varghese said that teaching is a science and an art. He added that the training will play the role of a catalyst in the transformation of the education system.