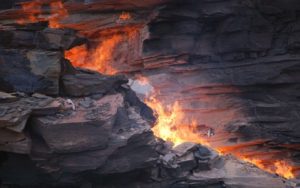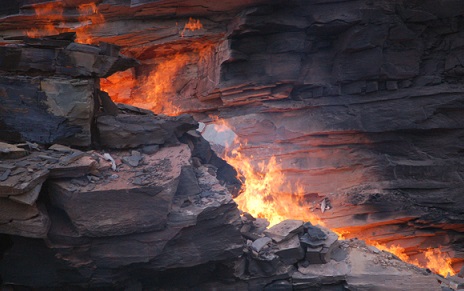 Underground inferno raging for over 90 years in the various localities of Dhanbad district (Jharkhand) not only frightening for the local residents but also poses a grave threat to the railway track (Chandrapur-Dhanbad), four lanes Grand Trunk (GT) Road and National Highways.
The fire is spreading towards the railway track near south Govindpur siding area and is about 22 feet far from the railway track, slowly spreading towards the track, said an official.
Taking tough steps a high level committee compromising of PK Sarkar, Director General of DGMS, S Rai and HK Bakshi of DGMS, D Gangopadhyay Director Technical of Bharat Cocking Coal Limited, SN Saha of Central Institute of Mining and Fuel Research (CIMFR), KC Mishra GM BCCL Govindpur area, SK Dutta GM Katras area, JP Gupta GM Sijua area including many safety and survey officials inspected the area at Katras, Sijua and Loyabad.
The team members admitted that underground fire is very close to the railway track. Hope decision would be taken shortly to divert the rail route, said an official of the team. Due to the fire express and passenger trains are crossing with the speed of 30 kms per hour in these areas.
Notably, underground inferno resulted in huge loss of 'prime coking coal'- used for manufacturing Steel; a biggest challenge for the government. This sterling truth came out after a study conducted by the Department of Environment Science of Indian School of Mines (ISM), Dhanbad. According to the study out of total reserve of about 5 billion tonnes nearly 2 billion tonnes of prime coking coal of Bharat Coking Coal Limited (BCCL) in Jharia Coalfield trapped under earth due to inferno.
It might be assumed that over 50 million tonnes of coal of worth of about 3000 crore have already been lost. A team led by Dr Gurudeep Singh then Head of Department of Environment Science (ISM) conducted the study (in the year 2010) which also reveals that estimated 50MT coal has already been lost and about 2000 MT coal is locked and cannot be accomplished due to underground inferno.
The study also reveals the shocking truth that inferno has a devastating effect on the environment and about 17.32 sq kms area of Jharia coalfield has become sterile and barren.
Meanwhile, land subsidence due to inferno and illegal mining still continued in the various localities of Dhanbad district not only fears for the local residents but also poses a stern threat to the four lanes Grand Trunk (GT) Road and National Highways, said an official.