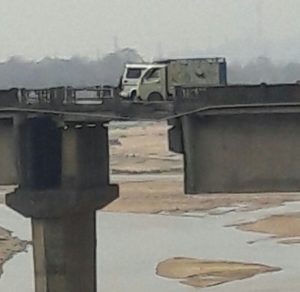 Transportation of heavy vehicles has come to a complete halt since early morning on the Telmachho Bridge on NH 23 and NH-32 after a side portion of the bridge collapsed.
The bridge is erected on Damodar river connecting the state capital Ranchi to Dhanbad via Bokaro (NH-23) and Purulia via Chas to Dhanbad (NH-32).
The bridge is about 37 years old, has been already in deteriorating condition with the authority responsible for maintenance, said an eyewitness. Goods trucks, transport buses were stand still after the Bokaro DC barred the movement of heavy vehicles on the bridge early morning.
Immediately after getting the information that a portion of the bridge was collapsed Bokaro Deputy Commissioner RMP Ray rushed on the spot and ordered to stop the communication of heavy vehicles on the bridge.  "Heavy vehicles are completely barred though light vehicles are allowed in queue", said Ray. "I have ordered an expedited review of the bridge, officials have been asked to submit report earliest", he added.
"We are trying hard, transportation would be restored soon", he said.