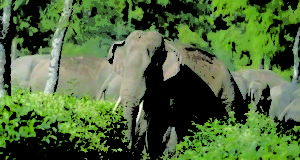 JNS: Amidst naxal fear, rampaging tuskers have become a stern threat to the rural masses residing in the Lugu and Jhumra hillocks in Gomia block of Bokaro district.
On Sunday midnight, a herd of 14 elephants ransacked a hotel running in a cottage at Tillaya village. The rowdy tuskers destroyed roof and later demolished the walls of the hotel, said Raj Kapoor Thakur the owner of the hotel.
According to the villagers, the herd of elephant created mayhem since past few months in several villages situated in the in the base areas area of Lugu and Jhumra hills; on time of intervals their attacks continued since from July this year, said Santosh Mahato a local resident.
"Fearing with the rowdy elephants, rural people mostly in the hilly and forestry areas are compelled to spend sleepless night whenever we heard about the herd of elephants crossing from our areas including farmland," he added.
In the month of July this year the herd ransacked community centre at Luguburu, The rowdy tuskers also attacked a nearby temple later they demolished the boundary wall of the guest house belongs to Tenughat Thermal Power Station (TTPS), informed Suresh Mahato another villager.  "In August, again that herd attacked in Chorgawa and ransacked three houses belong to Parvati Devi, Malti Devi and Ganesh Prasad; destroyed paddy and maize crops," added Lobin Murmu a villager.
The rampaging elephants first ransacked the houses and later they engulfed about 10 quintals of Rice, Mustered, Maize and Kurthi stored in those houses, said another villager.
"We are on move to curb the menace of elephants across the region," said S Bhagat Forest Officer. These are hillocks regions and herd of elephants usually enters into these areas, though we are trying our best," he added. Notably, about 70 to 100 people are trampled to death every year in Jharkhand by elephants.
Every year a herd of rowdy tuskers entered into Jharkhand from Purulia district of West Bengal. "The herd of wild elephants moves in search of country liquor (like Mari or Handia) after getting the scent of it, besides damaging standing crops, vegetables and even huts of poor villagers living near the jungle area," said a forest official.
Though the regions of Kasmar, Jaridih, Peterwar, Gola and Ramghar which also known as the 'elephant corridor'— the migration root of the elephants in Bokaro district.
Regularly elephants enter into these regions of Jharkhand from the Roriya forest the border area of Purulia district of WB and Jharkhand; while in Dhanbad district the elephant herds frequently moved to Dhanbad via Jamtara from the Purulia district of WB too and claimed several lives in the past and destroyed crops, he said.
"A shrinking habitat has forced elephants to raid farmlands and villagers have been encroaching upon forest land to build homes, increasing the man-animal conflict in the State, which has also been hit by Maoist militancy," a forest official said.