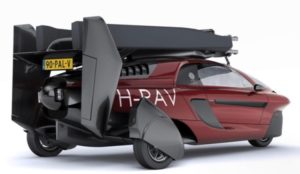 Dutch company PAL-V has publically debuted the world's first commercial flying car, the Liberty, at the Geneva motor show. The flying car has been launched with the Liberty Pioneer Edition, which is priced from $599,000, before taxes. This price includes some flight instruction sessions, power heating and personalisation options.
Dutch manufacturer PAL-V claims the three-wheeled Liberty is fully compliant with existing regulations and says it represents a "pivotal time in aviation and mobility history". It expects to make first customer deliveries next year.
Only 90 will be sold, with around half of them headed to Europe, and after their delivery, the manufacturer will start delivery of the Liberty Sport model.
That model is priced from $399,000 before taxes on the manufacturer's website.
It doesn't have the same level of personalisation available as the Pioneer Edition but still comes with flying lessons, while options include power heating and carbonfibre detailing.
The Liberty has a three-wheel layout and rotor blades on the roof which fold away. It's effectively a gyrocopter aircraft with two engines. Its Rotax engine-based dual propulsion drivetrain includes one engine for driving and one for flying, with an unpowered large rotor on top that provides lift, while an engine-powered blade on the rear of the vehicle gives thrust.
It has lowered suspension and a tilting two person cockpit. To convert the car from drive to fly mode or vice versa takes around 5-10 minutes, according to PAL-V. The rotor mast unfolds automatically, but the driver must pull out the tail section, unfold two rotor blades and take out the prop to ready it to fly.
You also need a license to fly, and you can't just take off and land anywhere; PAL-V says the Liberty requires take-off space of around 90-200×200 metres without obstacles. It says that small airstrips, aerodromes, glider sites and ultralight airfields will be most appropriate.
The manufacturer says the noise that the Liberty generates in flight will be comparable to a small fixed wing aeroplane, saying it will be "much less" than a helicopter.
The drive mode engine has 100hp and a top speed of 161kph, with 0-100kph sprint taking 9.0sec. Fuel economy is a claimed 13.17kpl with a range of 1,315km.
In the air, the Liberty can climb to a maximum altitude of 3,500m, and its 200hp flying engine can propel it up to a top speed of 180kph. Its range is a claimed 499km.
The Liberty will be assembled in the Netherlands, with specific parts and systems manufactured by other companies in different countries.
PAL-V collaborated with Italian design agencies for the car and conducted test programmes with concepts in 2009 and 2012.
CT – https://www.autocarindia.com/car-news/pal-v-liberty-flying-car-showcased-at-geneva-407656