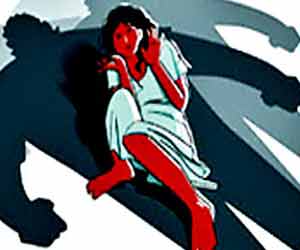 The rape and murder of a missing four-year-old girl, whose eyes were gouged out and hands chopped off, brought back horrors of witchcraft in Jharkhand where killings linked to superstitious beliefs are rampant.
The mutilated body of the girl, missing since December 15, was found near her village in East Singhbum district on Thursday. Villagers suspect a sorcerer was behind the gruesome crime.
Police didn't rule out the involvement of family members or people known to the girl.
They said organ trafficking gangs could be involved too, but the girl's autopsy must confirm if any of her kidneys is missing. Also, stray dogs could have scraped out the eyes.
This is the second such crime in Jharkhand in a week after a 19-year-old girl was raped and burnt to death in Booty Basti under Ranchi Sadar police station on December 16 — on the fourth anniversary of the brutal gang rape and murder of a paramedical student in New Delhi. Police have yet to track the Ranchi suspect.
JMM parliamentarian Sanjeev Kumar and legislator Amit Mahato met Union home minister Rajnath Singh in New Delhi on Friday and demanded a CBI investigation into the brutal rape and murder of the BTech student from Ram Tahal Chowdhary Technical College in Ranchi.
In East Singhbum, police initially refused to look for the girl when her parents reported her disappearance. They lodged a missing complaint four days later.
Angry villagers assaulted the assistant sub-inspector before a police team rescued him with the promise of strong action against the culprit.
"Someone close and known to the victim appeared to be behind the act because had there been outsiders or a racket been involved they would not have dumped the body in the village. But we are probing every lead and not ruling out any angle," Shailendra Barnwal, the Jamshedpur rural superintendent of police, said on Friday.
The girl's father, who is a farmer and a daily wage worker, has not named any suspect in his complaint. But several women in the village told police that a sorcerer from a nearby village, who was spotted on an adjacent hillock for the past six months, could be involved.
Villagers are also talking about two young men on a motorcycle, alleging that they drugged the girl when she was playing outside her house on December 15 and committed the crime.
CT : Hindustan Times