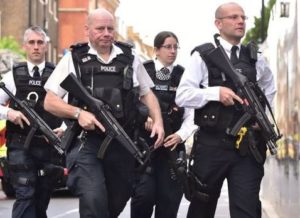 At least 48 people injured in terror attack in London are in a critical condition. Seven people were killed in the terrorist attack last night while three suspected attackers were shot dead by police.
No details have been released about the suspects, who were shot dead within minutes by police.
A police raid took place in East Ham and earlier today 12 people were arrested today in Barking, east London, in connection with the incident.
According to the reports, shortly after 10pm, a white van struck a number of pedestrians on London Bridge. The vehicle then drove a short distance to Borough Market where its occupants got out and stabbed a number of people.
Armed officers, responding to the first calls about the incident made at 10.08pm, confronted the three men, shooting them dead at Borough Market. In a statement, the Metropolitan Police confirmed that the suspects had been shot dead within eight minutes of them receiving initial knowledge of the attack.