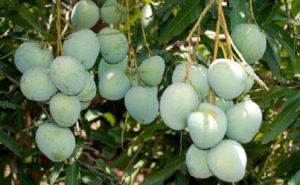 'Mango' the leading fruit crop of India, considered as the king of fruits is to be yield under MGNREGA now in Bokaro district of Jharkhand. The Bokaro district administration is on move to produce Mango in large numbers under the MGNREGA scheme. Aiming to generate employment  under the centrally sponsored scheme, two blocks of the district has been selected for yielding mango.
"Under the pilot project we have set the target to yield the fruit crop on 72 acres of land in Kasmar and Paterwar block of the district," said Ram Lakhan Prasad Gupta Deputy Development Commissioner (DDC) Bokaro.
"For the successful implementation of the project all needful related directions has been executed. A workshop is scheduled to be organised Deputy Development Commissioner (DDC) at district headquarter.  All executives for the department including BDOs, Agriculture Officer and panchayat representatives would be participating in the workshop", said the DDC.
For yielding the fruit crop there is an estimated expenditure of 1.65 lakhs rupees on per acre of land, informed Gupta. We have planned to plant 160 saplings of mango tree in per acre of land, he said.
The saplings of wood-tree are also planted surrounding the mango farming area in a bid to protect the fruit crop as well as for the economical benefits of the farmer, said Gupta.The environment of Jharkhand is very much compatible for this fruit crop, while there are plenty of lands available which is ideal for mango yielding, said the DDC
Farmers can earn by working 100 days on this project, he said. "Works like wells, roads, farm ponds, construction of houses (Indira Awas Yojana) and many such activities are covered under MGNREGA but this time we have decided to yield the fruit crop, said DDC.We have decided to yield mango under the MGNREGA and we also found that people are showing their keen interest in the programme, an agriculture official said. "We expect that the economic condition of the people will improve through this", he added.
'The administration would provide the saplings, fertilizer and pesticides for free', said the official.Different states have adopted different models for growing and maintaining plantations under MGNREGA. In Madhya Pradhesh, plantations under MGNREGA have also become a good source of income for individual beneficiaries as plantation works here are undertaken not only on public land but also in private agriculture land. While in Tamil Nadu, they are treated as an alternate source of income for the panchayats, informed an official.