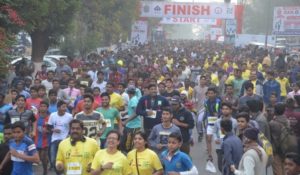 Kenyans Simion won the 'Ran-O-Thon' – half marathon, a road running event on Sunday hosted by the department of tourism, art, culture, sports and youth affairs, Airtel a telecom company and an NGO Round Table India.
Aiming to create awareness about health and sports among the mass, the event was organised at Bokaro Steel City. The run was flagged-off by State sports and tourism minister Amar Kumar Bauri at Library Ground at 6.30 AM.
Thousands of amateur and professional runners, including personnel of Jharkhand police, CRPF, CISF, Railway and Government officials took part in the event, comprised men's and women's run of 21kms, 10kms and 5kms.
Simion stood first, he covered 21 kms distance in one hour eight minutes and one second in men's group, Rajkumar Singh scored second and Prabhas Chandra Mahato grabbed the third position. While in women's group Shyamli Singh stood first, covered the 21 kms distance in one hour, 23 minutes and four seconds. Jyoti Singh stood second and Sangeeta Lakra scored the third position, won the cash awards of Rs 51000, Rs 31000 and   Rs 21000 respectively in both men and women groups.
In 10 kms run Kunal Ranjan stood first, Anil Kumar Mahato second and Devanand scored third positions in men's category. While in women's category Shiva grabbed first, Shanti Rai second and Sona Kumar scored third positions; won Rs 31000, RS 21000 and Rs 11000 respectively in both men's and women's groups.
Beside others, Bokaro Deputy Commissioner Rai Mahimapat Ray, SP Kartik S, Laxman Kumar Nayak, Ranendra Kumar, Digeshwar Tiwari, Sandeep Kumar, Satish Chandra and Manjeet Singh participated in the event.