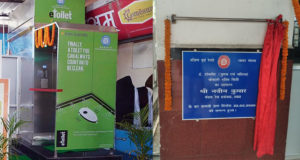 Bokaro: Bokaro Railway Station got two high-tech e-toilet on Saturday. This toilet does not need manual cleaning and is equipped with a mechanism that cleans the toilet automatically after every use was inaugurated at DRM Adra Division Navin Kumar.
Installed at a cost of S 15 lakhs these two units of sensor-operated electronic toilets are made-up of cold-rolled steel; installed on Platform No. 1 of the station. "The sensors were tested and they are found to be working fine," said A K Haldar Station Master of Bokaro Railway Station.
Equipped with the Rapid Cleaning Technology these e-toilets ensures that the commode, as well as the floor, is hygienically flushed using the minimum amount of water after every use.
However, continuous supply of water to the e-toilets has been ensured, said Uttam Kumar a railway official. "For both genders, access to the loo is controlled by a door that opens after the insertion of a coin of Rs 5, which also immediately switched on the lights inside the toilets," added Kumar.