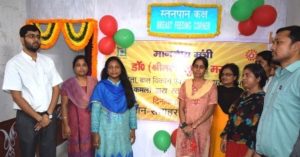 Now working women (government) who hereafter need not worry about difficulties in breastfeeding their newborns. Making life easy for them a breastfeeding centre which is first in Jharkhand was inaugurated at Bokaro collectorate.
Dr. Louis Marandi the minister of Welfare (including Minority Welfare), Social Welfare, Women and Child Development inaugurated a centre next to the district collectorate's conference hall.
Appreciating the Bokaro DC Rai M P Ray's move minister said, it is a commendable initiative that started for the first time in Bokaro district and first in the state. Breastfeeding is best for the newly born, till six months it essential, she said. "Breast milk provides the ideal nutrition for infants. It has a nearly perfect mix of vitamins, protein, and fat including everything for the infant which needs to grow.
"Breast milk contains antibodies that help your baby fight off viruses and bacteria", she added. Beside others, Sunam Gupta, district Social Welfare officer, Shakti Kumar, CDPO Bermo Archana Singh and other districts administrative official were present on the inaugural eve.