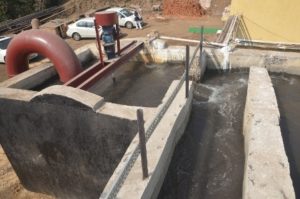 Bokaro Steel Plant today became one of the pioneers in the state towards treatment and recycling of industrial wastewater by operationalizing its ambitious Outfall 1B project.
Installed at a cost of Rs 6 crores, the water treatment and recycling plant at Outfall 1B will be treating around 1500 cubic meter of industrial water per hour and will recycle it back to the Cooling Pond-1 for use in the plant, BSL PR official informed.
With an aim to achieve zero-discharge, the plant had already installed the similar facility in its Outfall 2B which is capable of treatment and recycle of 500 cubic meters of industrial wastewater per hour, said the official. "Work on installation of this facility at Outfall 2A which will be capable of treating and recycling around 1500 cubic meter of industrial wastewater per hour is also likely to be completed within a few months. A project for a similar facility in Outfall 1A is also being planned", he added.
The water treatment and recycling plant at its Outfall 1B was inaugurated by Director (Technical) SAIL Raman recently where Bokaro Steel Plant (BSL) CEO PK Singh, Executive Directors, GMs, officials of the Environment Control department and other senior officials were present there.
With the inauguration of this facility, BSL has once again underlined its commitment towards environment conservation and has the rare distinction of installation of one of the largest industrial wastewater treatment plants in Jharkhand.