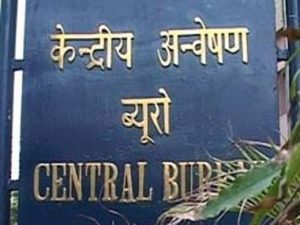 The Central Bureau of Investigation (CBI) sleuths of arrested newly appointed Bokaro Steel Plant chief executive officer (CEO) B P Verma on graft charges on Monday.
Verma was executive director (ED) Works at Rourkela Steel Plant (RSP) and Monday he has to join BSL as ED works. He will have to take over the charges as the CEOof Bokaro Steel Plant (BSL) on 1 April 2017.
The Steel Authority of India Limited (SAIL) management has appointed Verma as executive director in charge (works and projects). He will assume charge after present CEO, Anutosh Maitra, retires on March, 31.
As per the CBI sources, ready cash to a tune of Rs 21.480 lakh was seized from his Sector-19- based official residence at Rourkela.
Rs 20 lakh cash said to have seized was in shape of newly circulated Rs 2000 denomination Indian currency notes while Rs 1 lakh was allegedly the bribe money for passing a tender of Vesuvius India Ltd, manufacturer of continuous casting refractories.
CBI sleuths conducted raids at nine places, including his residences at Rourkela, Ranchi, Bokaro and Hazaribag. A representative of the Kolkata-based M/s Vesuvius India Limited Vinay Kumar Singh was also arrested by the CBI team. CBI also conducted a search at its premises in Kolkata.
"Apart from several incriminating documents, the CBI team recovered Rs 20 lakh in cash during the search," said R K Gaur, spokesperson, CBI.
The SAIL board had recently selected Verma from 11 candidates for the post of CEO and his arrest has caused huge embarrassment to the maharatna. In the appointment order, SAIL management had asked Verma to join as executive director BSL in-charge (works and projects) immediately and take over as CEO from April,1 after the retirement of present CEO Anutosh Maitra. Verma was slated to join as ED in-charge at BSL on Monday, said an official.