Jharkahnd Chief Minister Raghubar Das laid the foundations of three medical colleges in Palamu, Hazaribagh and Dumka on Thursday. Speaking on the ocassion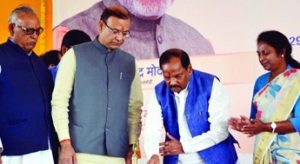 CM expressed gratitude to Prime Minister Narendra Modi and Union Health Minister J P Nadda to help improve health facilities in the state. "While the Centre is spending 60 per cent, the state s contribution is 40 per cent.
This is going to be the first time in 45 years that new medical colleges were coming up in the region. Medical colleges would also be opened in Bokaro, Chaibasa and Koderma. All teaching and non-teaching posts will be filled up before the college buildings are ready," he said.
The total estimated costs of establishing the colleges are Rs 292.7 crore, Rs 298.6 crore and Rs 293.9 crore respectively.
Das said the government was providing 329 ambulances to panchayats to improve health services in villages. "The people in many parts of the state are facing difficulty in getting better treatment due to lack of doctors. Now instead of 350 doctors every year, we will get 650 doctors which will meet the demands. With the establishment of medical colleges in Bokaro, Koderma and Chaibasa, the problem of doctors will be sorted out to a greater extent," he said.
The CM further said that after opening of AIIMS in Deoghar and medical college in Santhal Pargana, 65 lakh people will be benefitted and more than 10 thousand people will get direct or indirect employment. Township will be developed around Dumka and Dighi, he said, adding further, "The government will provide Rs. 50 crore guarantor seed money for talented SC and ST students and Rs. 10 crore for students of any other category so that banks can give them loans easily."
Praising the government for having conducted Momentum Jharkhand successfully, the CM said that Jharkhand is confident and is leading towards sustainable development. He said a CM Entrepreneur Board will be established to fuel lac, silk, palas and dairy development.
"These boards will be professional in nature. Momentum Jharkhand has opened new avenues for employment. About 11,000 investors from all over the world are willing to invest in Jharkhand in food, textile, footwear and other sectors. It will not only create employment but also minimize migration," he said.
Also present on the occasion, Union Minister of State for Aviation Jayant Sinha said that air service will start from Dumka and Ranchi in 6 months. He said that he is emotionally attached with Dumka. He thanked Union Health Minister J. P. Nadda for giving Medical College in Dumka.
Speaking at Dumka, Welfare Minister Louis Marandi said that it is a historic moment. She said that silk and small as well as big industries should be established in Dumka.
Health Minister Ram Chandra Chandravanshi said that health services will expand in Jharkhand. Underlining the specialty of Medical College, he said that this 500 bed college is being built in 12 acre area in two year span with an expenditure of Rs. 297.72.
He said that special provision will be there for physically challenged candidates. Every year 100 students will be admitted in the college. He later said that the opening of a proposed Agriculture University in Godda and 'agro-college' in Sahibganj will play an important role in development of the state.
Additional Chief Secretary Sudhir Tripathi said that 100 bed hospitals are being opened in Hansdiha and Mahagama which will provide better health facilities.
Before the commencement of the program, the CM along with other dignitaries garlanded the statue of Siddo-Kanho. On this occasion VC, Pro VC, and other dignified people were present.
At Palamu, MP B. D. Ram said that if the government provides two mobile health vans in Palamu Division, people in far off areas will also be greatly benefitted. He also suggested to make it a knowledge hub and thanked the govt. for opening three medical colleges.
At Hazaribagh, MLA Manish Jaisawal praised the government for starting the new medical colleges.
MLAs Radha Krishna Kishor, Alok Chaurasia, Shiv Pujan Mehta, Hare Krishna Singh, Development Commissioner Amit Khare, addl. CS Health Sudhir Tripathi, Palamu Commissioner Rajiv Arun Ekka, DIG Palamu Vipul Shukla, IG Palamu Sunil Kumar, MD, JSBCC, Palamu DC. Amit Kumar and other officers were present on this occasion.